Potassium Iodate

---
Potassium Iodate (KIO3) "Radiation Blocker" 85 mg Tablets
(90 scored tablets per bottle; 7650 mg)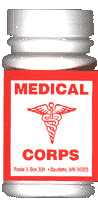 Manufactured by Medical Corps, this product is taken to protect oneself (especially children) from "thyroid cancer causing" radioactive iodine (nuclear fallout) released from a nuclear accident (reactor) or from a nuclear explosion. The 85mg tablet size is more desirable (especially for families) because it is chewable and doesn,t taste bitter. Also, you won't have to break the tablets as often to get smaller dosages for children and pets.
Because of the extra molecule of oxygen in Iodate, the shelf life of Potassium Iodate is exceptional and should last a generation (many decades). It is recommended to have one bottle of Potassium Iodate for each family member in the household plus one extra.
Why should it be used?
The American Civil Defense Association:
During a nuclear disaster, such as war, terrorism, a nuclear melt down or radioactive spill, great amounts of radioactive iodine are often released into the atmosphere. Taking Potassium Iodate, a Stable Iodine, can protect against radioactive poisoning by "filling" the thyroid with this harmless substance for a period of time; long enough to allow the dangerous radioactive iodine to be "blocked" (not be absorbed), and then naturally dissipate from the area. Up to 99% of all radiation induced thyroid damage can be prevented by taking Potassium Iodate pills.
Potassium Iodate is a superior form of Potassium Iodide (KI) because of its extended shelf life and non-bitter taste. The extra molecule of oxygen in Potassium Iodate (KIO3), can guarantee the Iodate's continued freshness without adding stabilizers. Potassium Iodate should be kept sealed, dry, and out of reach of children. If unopened, it should be effective for decades.
DIRECTIONS: Use during a Nuclear Emergency-ONLY! Best if started at least 12 hours before "Fallout". Each tablet contains 85 mg of Potassium Iodate which yields 50 mg of Elemental Iodine.
Minimum Daily Dose: Adults and Children over 12 years 2 tablets; Children 3 to 12 years 1 tablet; Babies 1 month to 3 years 1/2 tablet; Newborns to 1 month 1/4 tablet; Large dogs 1 to 2 tablets; Medium dogs 1/2 to 1 tablet; Cats 1/4 to 1/2 tablet.
Minimum number of days to take is 10-14 days. Maximum number of days to take is 85 days or the duration of emergency. Take only in the presence of radioactive iodine (nuclear fallout). Not for any other use.
Note: Only about 1 in 2,000,000 people are allergic to KI (Iodine). If a rash appears you may be only "mildly" allergic and will have to make a decision as to which is worse - radiation or a rash. Remember, children are extremely susceptible to radiation. They come first always!
Store in a dry environment at a temperature of 50 to 75 degrees F. Not intended as a nutritional supplement. Keep out of reach of children.